NED Ready
A seminar programme for people who wish to become Non-Executive Directors (NED) in the public or private sectors.
Increasingly, organisations have had to become more accountable in their governance procedures including the way that they attract and appoint members to their Boards. While many Boards provide NED induction after people have been appointed, there is no provision for prospective Board members to gain a real understanding of what it means to be a NED. NED Ready is about stimulating the gene pool.
Maggie Semple, OBE has extrensive experience of being a NED. She holds appointments in the private, public and voluntary sectors and it is her insights that have informed NED Ready. Maggie is the seminar host and she is joined by invited speakers with interesting perspectives.
The seminars will be of particular interest to individuals who hold senior positions in the private and public sectors. Each three hour seminar, for no more than 8 aspiring NEDs, is fast-paced and dynamic. Participants will hear prominent people talk about how Boards really operate and have the opportunity to discuss the values, cultures and behaviours that are anticipated but not made explicit. The programme does not cover CV writing or governance issues. There is some pre-work.
When:
Monthly throughout 2013
Time:
8.30 – 11.30 am
Where:
4 Goodwin's Court, Off St Martin's Lane, London, WC2N 4LL
Cost:
£500 per person plus VAT.
Reduced rate if all 8 participants are from the same company.
To express interest contact: info@experience-corps.co.uk or telephone 020 7836 6001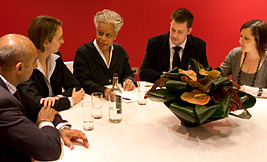 Photo: Chris Balmer